Algeria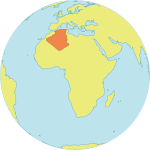 Maternal Mortality Ratio
112
Contraceptives prevalence rate
35
Population aged 10-24
22.2%
Related content
Despite all efforts to find a peaceful solution, we are now faced with the sad reality of war in Iraq and increased suffering for the Iraqi people.
I appeal to all parties to observe international law to protect the people of Iraq and neighbouring countries from the...
Commissioned by the United Nations Development Fund for Women (UNIFEM), this colorful book examines the progress made in implementing the United Nations Security Council Resolution 1325 on women, peace and security.
Winning the war in Afghanistan is not the same as keeping the peace. Here I would like to correct a common misconception, mostly produced by the media. Achieving peace and building communities and nations are considered in Islamic theology as the highest form of Jihad (Al-...
Pages