Morocco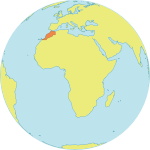 Maternal Mortality Ratio
70
Contraceptives prevalence rate
42
Population aged 10-24
24.3%
Youth secondary school enrollment
Related content
This meeting report is based on a Fund-wide consultation to review UNFPA's three-decade long experience in population education (PopEd). The report highlights issues and recommendations for addressing and strengthening education interventions within the context of...
This report concludes that women are bearing the brunt of the HIV/AIDS epidemic and that strategies to reverse it cannot succeed unless women and girls are empowered to reclaim their rights. Noting that half of all people infected with HIV are women, the report documents the...
"Yes for Prevention. No for discrimination" was the slogan of this year's AIDS Day commemoration by UNFPA in Sudan.
Pages