South Africa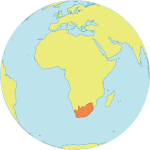 Maternal Mortality Ratio
119
Contraceptives prevalence rate
50
Population aged 10-24
25.9%
Youth secondary school enrollment
Related content
Every minute a woman dies from lack of life-saving emergency obstetric care. Addressing this need is the centrepiece of UNFPA's efforts to make motherhood safer.
UNFPA partnered with EngenderHealth to conduct a first-ever study on the occurrence of fistula in nine countries in sub-Saharan Africa (Benin, Chad, Malawi, Mali, Mozambique, Niger, Nigeria, Uganda and Zambia).
This publication charts the development of international co-operation on reproductive health through the UN system and outlines the language and declarations, which should be delivering these vital health and human rights services to people in every nation.
Pages