Bangladesh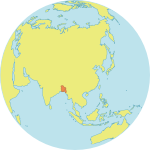 Maternal Mortality Ratio
173
Contraceptives prevalence rate
54
Population aged 10-24
27.9%
Youth secondary school enrollment
Related content
Life has come to a standstill in much of India's Bihar State as a ferocious monsoon season coincides with the COVID-19 pandemic.
The pandemic has taken a serious toll in Afghanistan. So far, more than 38,000 people have tested positive for the virus, out of 100,000 tested samples. Nearly 10 per cent of confirmed cases are among health professionals.
The 25th of August marked a tragic anniversary: three years since the mass influx of hundreds of thousands of Rohingya refugees into Bangladesh from neighbouring Myanmar.
Pages