UNITED NATIONS, New York, 31 October 2014 -- Dr. Babatunde Osotimehin, Executive Director of UNFPA, the United Nations Population Fund, today concluded a mission to the Horn of Africa with the United Nations Secretary-General, Ban Ki-Moon, and the World Bank President, Dr. Jim Kim.
The mission visited Ethiopia, Djibouti, Somalia and Kenya to spotlight the issues that threaten the region's security and development. During their visit to Dadaab in Kenya – the largest refugee settlement in the world – the message from Dr. Osotimehin was clear. "The conditions of the internally displaced and the refugee populations, particularly women and girls, are unacceptable, and their misery has lasted for over two decades," said the UNFPA Executive Director.
Refugees and internally displaced populations in villages and towns surrounding refugee camps are especially vulnerable to sexual violence and other forms of harmful practices, including female genital mutilation and child marriage. Life-saving reproductive health services and service providers are often unavailable. Adolescent girls become commodities, their bodies offering the means for ensuring a family's survival. Many women lose access to family planning services, exposing them to unwanted pregnancy in perilous conditions. There is also an additional risk of contracting HIV in countries where it is prevalent, and in some countries, refugees are not covered by national HIV/AIDS programmes.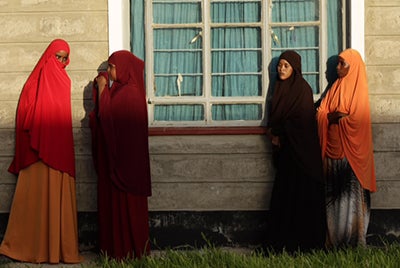 Women in a refugee camp in Dadaab, Kenya. Photo credit: UN Photo/Evan Schneider
Some 20 to 30 per cent of the displaced are young people who lack access to good education, employment, adult mentorship, and health information and services, which may negatively affect their futures lives.
Forced displacement, family separation, lack of basic protection mechanisms and essential services put women and girls at particular risk of sexual violence.
UNFPA, together with partners, is committed to significantly scaling up efforts to prevent and respond to gender-based violence in the Horn of Africa, and improve sexual and reproductive health services for the most vulnerable, especially women and girls.
 This is the third high-level mission that UNFPA's Executive Director has undertaken with the UN Secretary-General and the World Bank Group to Africa. In 2013, he also accompanied them to the Great Lakes and Sahel regions, ensuring a coherent and coordinated approach towards peace, security and development. 
***