Haiti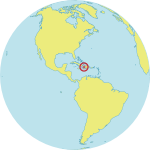 Maternal Mortality Ratio
480
Contraceptives prevalence rate
27
Population aged 10-24
29.9%
Related content
A report from the consultative meeting held in Bratislava, Slovakia, on 13-15 November 2001. The purpose of the meeting was twofold: first, to examine and explore the impact of armed conflict on women and girls; and, second, to formulate strategies and tools to ensure that...
The women of the Del Carmen community in Mexico's Hidalgo state recently received equipment to establish a candy-making industrial kitchen, thanks to the efforts of UNFPA Goodwill Ambassador and former Miss Universe Lupita Jones.
United Nations, New York – The United Nations Population Fund (UNFPA) today announced it is airlifting reproductive health supplies to victims of the recent earthquake in El Salvador. The supplies are scheduled to ship early on Monday.
Pages