Haiti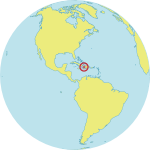 Maternal Mortality Ratio
359
Contraceptives prevalence rate
37
Population aged 10-24
30%
Related content
UNFPA will be able to continue responding to sexual and reproductive health needs when crises erupt thanks to $1 million in new financing by the Republic of Korea to the Humanitarian Thematic Action Fund (HTF).
The contribution is one of the highest received to date...
"Growing up, I felt as though my wings were slowly clipped against my will, and life became a cage from which there was no escape," said Amal*.
UNFPA continues to provide services to people in need of sexual and reproductive health and gender-based violence integrated services, with a focus on the needs of women and adolescent girls.
Pages