Ethiopia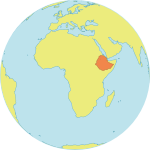 Maternal Mortality Ratio
353
Contraceptives prevalence rate
41
Population aged 10-24
34%
Youth secondary school enrollment
Related content
This brief explains how UNFPA Supplies – UNFPA's flagship programme helping countries build stronger health systems and widen access to contraceptives and life-saving medicines for maternal health – empowers youth. It is part of UNFPA Supplies' Key Results for 2015.
Jackie knows about heartbreak. She became pregnant in the ninth grade and was forced to leave school. Then, when her baby was nearly two years old, she suddenly fell sick. "I took her to the clinic. But when I came back, she was dead," Jackie told UNFPA.
This is an overview of some of the most honest and critical thinking, by women and men of faith and human rights actors, on the relationship between human rights and their respective faith traditions.
Pages