Ethiopia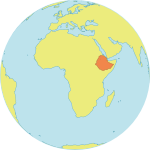 Maternal Mortality Ratio
401
Contraceptives prevalence rate
28
Population aged 10-24
33.6%
Youth secondary school enrollment
Related content
Good morning, everyone. It is truly a pleasure to be here today at the 55th Annual DPI/NGO Conference. It is an honour to share the podium with such distinguished panellists. And it is a delight to be with representatives of non-governmental organizations (NGOs) and civil...
I am pleased to deliver a statement on health and sustainable development on behalf of Thoraya Obaid, Executive Director of UNFPA, the United Nations Population Fund.
A healthy nation needs healthy people. Every human being is entitled to a healthy and productive...
Good morning. I would like to thank the United Nations Development Fund for Women (UNIFEM) and the Microcredit Summit Campaign for inviting me to participate in today's panel discussion. I would also like to thank Susy Cheston and Lisa Kuhn for their report, entitled,...
Pages