Ethiopia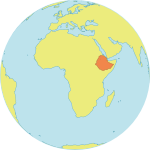 Maternal Mortality Ratio
401
Contraceptives prevalence rate
28
Population aged 10-24
33.6%
Youth secondary school enrollment
Related content
Your Excellencies,
I head an organization that deals with one of the thematic areas that cause a great deal of debate at the global level. We just have to remember paragraph 47 of the Plan of Implementation at the World Summit on Sustainable Development to know that...
Good morning, everyone. It is truly a pleasure to be here today at the 55th Annual DPI/NGO Conference. It is an honour to share the podium with such distinguished panellists. And it is a delight to be with representatives of non-governmental organizations (NGOs) and civil...
I am pleased to deliver a statement on health and sustainable development on behalf of Thoraya Obaid, Executive Director of UNFPA, the United Nations Population Fund.
A healthy nation needs healthy people. Every human being is entitled to a healthy and productive...
Pages