Ethiopia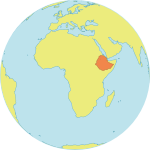 Maternal Mortality Ratio
401
Contraceptives prevalence rate
28
Population aged 10-24
33.6%
Youth secondary school enrollment
Related content
MAE SOT, Thailand - Visiting a sexual and reproductive health clinic may seem ordinary for many women. But this is not the case for Saba, 21, who has been living in the Mae La refugee camp along Thailand's border with Myanmar for the last two years.
This annual report  summarizes the 2013 programmes, objectives and initiatives achieved, both globally and regionally, in 2013. 
DUHOK, Iraq - With hostilities nearing her village in northern Iraq, 30-year-old Khawla had little choice but to flee - while she was eight months pregnant. She and her seven children spent days on the run before Khawla gave birth in a UNFPA-assisted hospital.
Pages