Ethiopia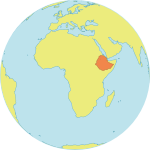 Maternal Mortality Ratio
401
Contraceptives prevalence rate
28
Population aged 10-24
33.6%
Youth secondary school enrollment
Related content
Today on International Human Rights Day, I applaud human rights defenders across the globe and everyone who participated in the 16 days of activism to end violence against women. Together, we must stand up for human rights and human dignity for every one every day.
Nancy Tomee resisted female genital mutilation (FGM) for seven long years, enduring bullying and abuse before a local organization intervened on her behalf. Yesterday, Ms.
NEW YORK, United States - There are fewer than 500 days left to achieve the Millennium Development Goals (MDGs), and too little progress has been made towards reducing maternal and child deaths. Yet simple, proven interventions can make these goals attainable, said Dr.
Pages