Lebanon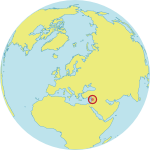 Maternal Mortality Ratio
29
Contraceptives prevalence rate
29
Population aged 10-24
24.8%
Related content
A report from the consultative meeting held in Bratislava, Slovakia, on 13-15 November 2001. The purpose of the meeting was twofold: first, to examine and explore the impact of armed conflict on women and girls; and, second, to formulate strategies and tools to ensure that...
The United Nations Population Fund (UNFPA) and Sudan recently signed an agreement to implement a new, five-year population programme in the African country.
The United Nations Population Fund joins the World Health Organization (WHO) in celebrating World Health Day, which falls on 7 April, and is devoted this year to Mental Health. The Day's slogan, "Stop exclusion, Dare to care", is a call to action to generate long-term...
Pages