Afghanistan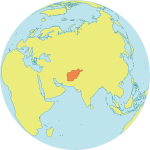 Maternal Mortality Ratio
638
Contraceptives prevalence rate
18
Population aged 10-24
35.3%
Youth secondary school enrollment
Related content
UNITED NATIONS, New York – Every two minutes, a woman dies in pregnancy or childbirth, according to UN estimates, adding up to nearly 290,000 maternal deaths each year. Nearly 3 million newborns die each year as well. Most of these deaths are entirely preventable: Prenatal care...
HONIARA, Solomon Islands – By 11 am on 4 April, residents knew the Mataniko River might breach its banks in Honiara, capital of the Solomon Islands, but no one knew it would wash away their homes within the hour. More than four weeks later, most displaced people remain in...
UNITED NATIONS, New York, 28 April 2014 – At the sixth global parliamentarians' conference on population and development, held in Stockholm from 23 to 25 April, parliamentarians from 134 countries issued their strongest call ever to implement the Programme of Action agreed to at...
Pages