Sri Lanka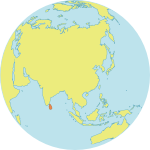 Maternal Mortality Ratio
36
Contraceptives prevalence rate
45
Population aged 10-24
22.7%
Youth secondary school enrollment
Related content
United Nations, New York -- Lara Dutta, the current Miss Universe and a Goodwill Ambassador for the United Nations Population Fund (UNFPA), will assess the needs of her country's youth when she visits adolescent assistance projects in India from 22 to 25 January, as...
Wars or natural disasters deprive people of life-saving reproductive health information and services. This advocacy booklet details UNFPA's work with global partners to respond to the reproductive health needs of refugees and internally displaced persons in crisis...
Phnom Penh – The United Nations Population Fund (UNFPA) has named Chea Samnang, a doctor and actor, as its Goodwill Ambassador for Cambodia. Born on Christmas Day in 1971 in the capital, Phnom Penh, Dr. Samnang spent a lot of his childhood in the countryside, after...
Pages