the Sudan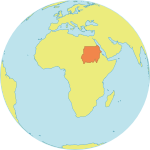 Maternal Mortality Ratio
295
Contraceptives prevalence rate
10
Population aged 10-24
32.6%
Youth secondary school enrollment
Related content
DAMASCUS, Syria – As a new mother, Wardeh's life should have been filled with hope and anticipation. But like many young women in war-ravaged Syria, her life has become a daily struggle.
<p>UNITED NATIONS, New York <span style="color: rgb(87, 83, 73); font-family: Verdana, Arial, Helvetica, sans-serif; font-size: 12px; font-style: normal; font-variant: normal; font-weight: normal; letter-spacing: normal; line-height: 18px; orphans: auto; text-align:
ZA'ATARI REFUGEE CAMP, Jordan — Over the past three years, Syria's civil war has left more than 130,000 dead and forced millions to flee to neighbouring countries like Jordan.
Pages