Switzerland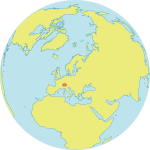 Maternal Mortality Ratio
5
Contraceptives prevalence rate
72
Population aged 10-24
15.1%
Youth secondary school enrollment
Related content
Thanks to the Nairobi Summit, we know what needs to be done to realize a world of rights and choices for all.
How is menstruation related to human rights? When does menstruation start? What are common myths and taboos about menstruation? What is period poverty?
This handout offers key messages to the ENGAGE multimedia presentation on policy changes and investments needed to realize the sexual and reproductive rights of persons with disabilities.
Pages