Philippines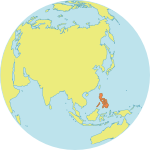 Maternal Mortality Ratio
121
Contraceptives prevalence rate
35
Population aged 10-24
28.7%
Youth secondary school enrollment
Related content
Statement by UNFPA Executive Director Dr. Natalia Kanem at the closing ceremony of the Nairobi Summit on ICPD25.
12-14 November 2019 High-level Conference on ICPD25
This year marks the 25th anniversary of the ground breaking International Conference on Population and Development (ICPD), which took place in Cairo in 1994. At that conference, 179 governments adopted a Programme of Action...
Nairobi, 12 November 2019 – World leaders, representatives of non-governmental organizations, young people, business leaders and community groups today began unveiling their commitments to end preventable maternal death, meet all women's demand for family planning, and stop viole
Pages