Philippines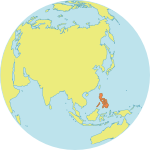 Maternal Mortality Ratio
121
Contraceptives prevalence rate
35
Population aged 10-24
28.7%
Youth secondary school enrollment
Related content
Memory Banda, 23, knows how to change the world: by refusing to stay silent. 
This World AIDS Day, UNFPA recognizes the vital role of communities in delivering sexual and reproductive health services that help prevent HIV transmission and improve the well-being of people living with HIV/AIDS.
The crime of rape is a severe human rights violation, yet it remains widespread around the globe.
Pages