Philippines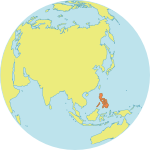 Maternal Mortality Ratio
121
Contraceptives prevalence rate
35
Population aged 10-24
28.7%
Youth secondary school enrollment
Related content
SHALMAN REFUGEE CAMP, Khyber Agency, Pakistan -- Tens of thousands of displaced Afghans are returning home on the road from Peshawar to Jalabad. But in this desolate place not far from the border, thousands more are settling in.
Winning the war in Afghanistan is not the same as keeping the peace. Here I would like to correct a common misconception, mostly produced by the media. Achieving peace and building communities and nations are considered in Islamic theology as the highest form of Jihad (Al-...
KABUL, AFGHANISTAN -- A severe shortage of trained female doctors and midwives is a major obstacle to extending reproductive health care to Afghan women.
Pages