Philippines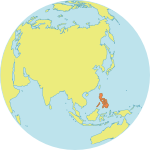 Maternal Mortality Ratio
121
Contraceptives prevalence rate
35
Population aged 10-24
28.7%
Youth secondary school enrollment
Related content
KABUL, AFGHANISTAN -- A severe shortage of trained female doctors and midwives is a major obstacle to extending reproductive health care to Afghan women.
KABUL, AFGHANISTAN -- The small surgery in the Khair Khana 52-Beds Hospital smells of blood. (Actually it is more a clinic than a hospital.).
A report from the consultative meeting held in Bratislava, Slovakia, on 13-15 November 2001.
Pages