Philippines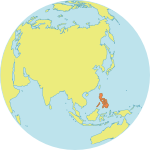 Maternal Mortality Ratio
121
Contraceptives prevalence rate
36
Population aged 10-24
28.6%
Youth secondary school enrollment
Related content
Since 15 November, the State Emergency Commission (SEC) has identified a total of eight clusters of COVID-19 transmission: two in Ulaanbaatar City and one in Selenge, Darkhan-Uul, Gobisumber, Orkhon, Dornogobi and Arkhangai provinces respectively. The clusters are linked...
Regional Highlights All countries in Eastern Europe and Central Asia, except Turkmenistan, have officially reported COVID-19 cases, with more than 4 million confirmed cases, out of which 55 per cent were recorded in Turkey and Ukraine. Armenia and Georgia are now the most...
Regional Highlights The COVID-19 pandemic has hit Latin America and the Caribbean at a time of  low growth, marked inequality and vulnerability, growing poverty, weakening of social cohesion and increasing expressions of social discontent.  Cases of COVID-19 continue to...
Pages