Nigeria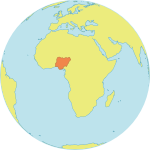 Maternal Mortality Ratio
917
Contraceptives prevalence rate
17
Population aged 10-24
31.9%
Related content
Memory Banda, 23, knows how to change the world: by refusing to stay silent. 
This paper provides a brief review of existing evidence and emerging issues in the area of contraception for adolescents and youth, with a particular focus on integration into sexual and reproductive health and rights services.
The youth centres are friendly spaces for youth amid protracted conflict in Kachin State.
Pages