Mozambique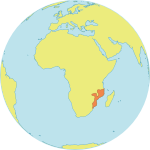 Maternal Mortality Ratio
289
Contraceptives prevalence rate
26
Population aged 10-24
33.6%
Youth secondary school enrollment
Related content
United Nations, New York - Representatives of the three partner agencies involved in the African Youth Alliance (AYA) visited Ghana and Botswana during the first week of April in preparation for the implementation phase of the Alliance's programme.
United Nations, New York - Ms. Thoraya A. Obaid, Executive Director of the United Nations Population Fund (UNFPA), today released the following statement on the occasion of World Health Day:
No scientist on earth has so far invented a drug that can cure AIDS. However, individuals, governments and groups can fight to prevent it. That is exactly what UNFPA Goodwill Ambassador and Miss Universe 1999, Mpule Kwelagobe, is doing.
Pages