Mozambique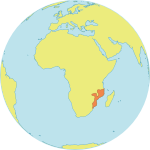 Maternal Mortality Ratio
289
Contraceptives prevalence rate
26
Population aged 10-24
33.6%
Youth secondary school enrollment
Related content
Goodwill Ambassador of the United Nations Population Fund (UNFPA), Mpule Kwelagobe, has received the Jonathan Mann Award for her work on HIV/AIDS, at a ceremony in Chicago in December.
BRATISLAVA, Slovakia - Actions to protect women's rights and meet their specific needs should become a standard part of any international response in wars and post-conflict situations, an expert meeting agreed here today.
Unbalanced consumption harms the environment and environmental destruction has a disproportionate impact on the poor, said Thoraya Obaid, Executive Director of the UNFPA, as she launched The State of World Population 2001 on 7 November.
Pages