Thailand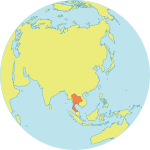 Maternal Mortality Ratio
37
Contraceptives prevalence rate
56
Population aged 10-24
18.7%
Related content
This supplement was launched in conjunction with the launch of the background document for the Nairobi Summit on ICPD25.
Iuliana* did not get much a childhood. At age 15, she found herself pregnant. She said she had been afraid to negotiate safe sex with her boyfriend, who was four years older. Her fears were well-founded: He sometimes lashed out violently against her.
Statement by UNFPA Executive Director Dr. Natalia Kanem at the High-level Meeting on "Accelerating global action for the fulfilment of rights for Afro-descendant people in Latin America and the Caribbean", San José, Costa Rica.
Pages