Thailand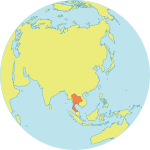 Maternal Mortality Ratio
37
Contraceptives prevalence rate
56
Population aged 10-24
18.7%
Related content
Nairobi, 12 November 2019 – World leaders, representatives of non-governmental organizations, young people, business leaders and community groups today began unveiling their commitments to end preventable maternal death, meet all women's demand for family planning, and stop...
Actions to save mothers' lives, meet the global demand for contraception and stop violence against women and girls by 2030 are the focus of a three-day global summit that begins here tomorrow.
The Nairobi Summit on ICPD25 (November 2019) provided an opportunity to complete the unfinished business of the ICPD Programme of Action and also a chance to commit to a forward looking sexual and reproductive health and rights (SRHR...
Pages