United Kingdom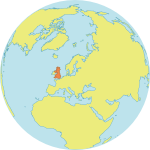 Maternal Mortality Ratio
7
Contraceptives prevalence rate
73
Population aged 10-24
17.3%
Youth secondary school enrollment
Related content
The Gender Equality Strategy 2018–2021 was developed to complement the UNFPA Strategic Plan and guide operationalization of the gender and rights-related aspects of its results and resources framework.
Elevating Rights and Choices for All: Guidance Note for Applying a Human Rights Based Approach to Programming provides a road map for institutionalizing a human rights-based approach in the work of UNFPA, guided by the principles of: equality and non-discrimination, quality...
How is menstruation related to human rights? When does menstruation start? What are common myths and taboos about menstruation? What is period poverty?
Pages