Canada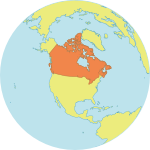 Maternal Mortality Ratio
10
Contraceptives prevalence rate
74
Population aged 10-24
16.6%
Youth secondary school enrollment
Related content
12-14 November 2019 High-level Conference on ICPD25
This year marks the 25th anniversary of the ground breaking International Conference on Population and Development (ICPD), which took place in Cairo in 1994. At that conference, 179 governments adopted a Programme of Action...
Nairobi, 12 November 2019 – World leaders, representatives of non-governmental organizations, young people, business leaders and community groups today began unveiling their commitments to end preventable maternal death, meet all women's demand for family planning, and stop...
The price tag to achieve three world-transforming results in the next decade – ending preventable maternal deaths, eliminating gender-based violence and harmful practices, and meeting the family planning needs of women in high-priority countries – is $264 billion, according to...
Pages