KABUL—Mothers and infants in north-west Kabul have a far better chance of surviving childbirth, following the inauguration today of a modern hospital rebuilt and refurbished with support from the Government of Italy and UNFPA, the United Nations Population Fund.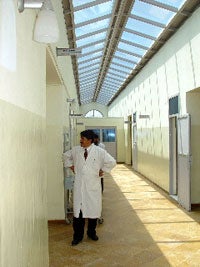 The Khair Khana Hospital, once filthy, overcrowded and woefully under-equipped, now has a clean delivery room and an up-to-date operating theatre where Caesarean sections can be performed. Its capacity has doubled, and the hospital now handles some 30-40 deliveries per day. The facility serves a poor, densely populated area with a population of 1 million.
In today's opening ceremony, speakers included Dr. Mehraban, Deputy Minister of Public Health; Mr. Kunio Waki, UNFPA Deputy Executive Director (Programme); Counsellor Carlo Batori, deputy head of the Italian Embassy in Afghanistan; and Khair Khana Director, Dr. Abdul Marouf Nadeem.
Built in 1981 by the Soviet Union, Khair Khana fell into disrepair during 20 years of civil war in Afghanistan, including heavy fighting that brought tens of thousands of displaced people into the area around the hospital. Early last year it was dirty and lacked the most basic equipment. News Feature: Kabul Maternity Hospitals Lack Equipment and Supplies: Help from UNFPA Is on the Way
Women who experienced complications during childbirth could not be treated at Khair Khana. There were only two maternity hospitals equipped for life-saving surgery, some 15 kilometres away, and there was no ambulance. (UNFPA provided an ambulance last year.)
"In the past we didn't have instruments for surgery; now we have instruments for all kinds of surgery and have the possibility of helping all kinds of patients," says Dr. Nadeem. "We didn't have ultrasound machines; now we have three. We didn't have incubators or radiography machines, but now we have them. We didn't have a kitchen or a good laundry.
"At the beginning of 2002, we had just five or ten doctors at this hospital. Now we have 60 doctors, 70 nurses, 240 staff in all," including obstetrics and gynaecology experts and a general surgeon, he adds.
In addition to a fully equipped obstetric and gynaecology ward which opened two months ago, starting tomorrow the hospital will handle general medicine, internal medicine, outpatient and emergency cases. It also has a laboratory and pharmacy.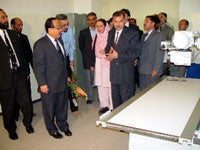 At the request of the Ministry of Public Health and as part of its effort to help reduce maternal mortality in Afghanistan, UNFPA organized the reconstruction of Khair Khana starting in the summer of 2002.
Intersos, an Italian nongovernmental agency specializing in engineering projects, planned and carried out the renovation, which included the total reconstruction of two wings of the hospital and a new interior in the central section. Up to 200 Afghan workers at a time carried out the work, which continued through the bitterly cold winter months. Noted Italian architect Franco Maria Travan made the designs.
During the eight months the hospital was closed for renovation, some 70,000 patients went instead to a 72-bed Danish Emergency Mobile Hospital, supported by UNFPA with about $2 million in funding from the Governments of Denmark and Luxembourg.
Roya Asmatizia, now an operating theatre nurse at Khair Khana, was one of many doctors and nurses trained in emergency procedures by the mobile hospital's Danish staff.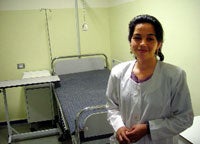 When people heard on the radio about the Danish mobile hospital, they came from all over Kabul to receive care there," she said. "After they hear the news about today's inauguration, many women will come to Khair Khana, even from western Kabul, because of the possibility of delivery in a clean, modern facility where they can avoid infection."
Counsellor Batori says the $2 million Italy provided for the reconstruction was "not a donation; it is an investment in human dignity."
---
Afghanistan has one of the world's highest maternal mortality ratios, an estimated 1,700 deaths per 100,000 live births. The vast majority of Afghan women have no access to medical care during pregnancy and childbirth. Most of the medical facilities that are available are run down and in dire need of trained personnel.
UNFPA is participating in Afghanistan's reconstruction as part of the integrated United Nations assistance mission. It is working with the Ministry of Health, in collaboration with United Nations partners and NGOs, to improve reproductive health care and reduce maternal mortality.
Contact Information:
William A. Ryan
Temp. Phone : + 81 (0) 901 620 8365
Email: ryanw@unfpa.org