Italy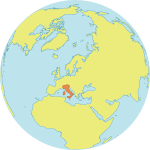 Maternal Mortality Ratio
4
Contraceptives prevalence rate
69
Population aged 10-24
14%
Youth secondary school enrollment
Related content
Globally, there were an estimated 289,000 maternal deaths in 2013, a decline of 45 per cent from 1990.
We also know that in order to make progress, in order to advance a universal sustainable development agenda beyond 2015, we must work towards a common understanding of the universality of human rights. Development can only succeed when human rights are respected.
Sorie Kondi, blind from birth, has been called Sierra Leone's Stevie Wonder - but that may be premature. Still trying to make it as a world musician, Sorie's worried about the future of his daughter Zainab.
Pages