Czech Republic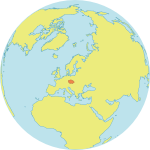 Maternal Mortality Ratio
4
Contraceptives prevalence rate
80
Population aged 10-24
14%
Youth secondary school enrollment
Related content
Midwives like Rawthah Ahmed are going to heroic lengths to serve women in need. See more.
May is for motherhood. This month, we commemorate the strength and beauty of mothers everywhere – and the midwives who guide women safely along their journey to motherhood.
Rural midwives are working to end preventable maternal deaths.
Pages