Czech Republic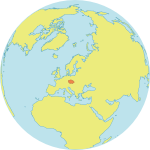 Maternal Mortality Ratio
4
Contraceptives prevalence rate
80
Population aged 10-24
14%
Youth secondary school enrollment
Related content
In Liberia, one midwife reflects on the work she has dedicated her life to. "We'll prevent so many complications. We'll also prevent neonatal death," she says. Midwives save lives. See more here.
New midwifery course in Nepal aims to elevate midwives, save mothers.
Yemen's midwives risk their own lives to save women and newborns.
Pages