India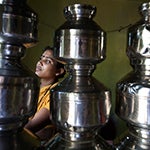 Maternal Mortality Ratio
145
Contraceptives prevalence rate
43
Population aged 10-24
27.2%
Youth secondary school enrollment
Related content
On 13 May, 1968, the world declared family planning to be a basic human right. But 50 years later, this right is under attack.
I don't want more kids and I'm afraid to get pregnant," said Fatima*, a 37-year-old Syrian refugee and mother of six, at a UNFPA-supported clinic.
In the aftermath of the powerful earthquake that struck the Iraq-Iran border on 12 November, UNFPA has scaled up its emergency response to meet the needs of women and girls.
Pages