India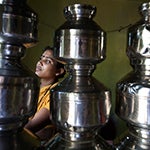 Maternal Mortality Ratio
145
Contraceptives prevalence rate
43
Population aged 10-24
27.2%
Youth secondary school enrollment
Related content
These guidelines describe the strategies for achieving elimination of maternal and neonatal tetanus by the year 2005 and, once elimination is achieved, for maintaining it. They are intended for public health managers at the national and distric levels in countries that have...
"Partnering" shows how a global consensus is emerging on how to scale up successful programmes that involve men without diverting scarce resources from women's health. In fact, men are more and more taking ownership of mobilization and advocacy for the emergence...
After describing the international consensus reached in Beijing about empowering women and ending gender inequality, and defining key human rights concepts, the report examines key issues related to reproductive health and rights that affect women throughout their lives....
Pages