India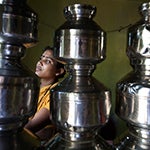 Maternal Mortality Ratio
145
Contraceptives prevalence rate
43
Population aged 10-24
27.2%
Youth secondary school enrollment
Related content
Wars or natural disasters deprive people of life-saving reproductive health information and services. This advocacy booklet details UNFPA's work with global partners to respond to the reproductive health needs of refugees and internally displaced persons in crisis...
The meeting examined, in particular, three issues of considerable importance to sexual and reproductive health, in order to assess the impact of clinical services, health systems and other underlying social, economic, legal and political factors on the enjoyment of sexual and...
The document opens by summarising the complexity involved in measuring maternal mortality and the reasons why such measurement is subject to uncertainty, particularly when it comes to monitoring progress. Subsequently, the rationale for the development of estimates of...
Pages