South Africa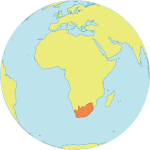 Maternal Mortality Ratio
119
Contraceptives prevalence rate
50
Population aged 10-24
25.8%
Youth secondary school enrollment
Related content
In the aftermath of the powerful earthquake that struck the Iraq-Iran border on 12 November, UNFPA has scaled up its emergency response to meet the needs of women and girls.
For years, Aja Babung Sidibeh would gathered girls together in the Central River Region of the Gambia and prepared them to take part in an initiation rite. The girls would come stay with her until a circumciser arrived to cut them – a practice known as female genital mutilation...
She is 10 years old. Capable of rapidly absorbing wisdom and knowledge from those around her, she is poised to one day become an inspiring leader, a productive worker, an innovator, a caring parent or any of the other roles that power a thriving, dynamic society. She will...
Pages