South Africa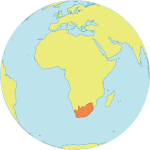 Maternal Mortality Ratio
119
Contraceptives prevalence rate
50
Population aged 10-24
25.9%
Youth secondary school enrollment
Related content
"When I was 9 years old, my mother told me that three of her sisters died because her grandmother practiced female genital mutilation (FGM)," says Patricia Tobon Yagarí, an Emberá indigenous lawyer from Colombia.
The sixth of February is International Day of Zero Tolerance for Female Genital Mutilation (FGM), a day to raise awareness of the practice and work towards its elimination. UNFPA will observe the day on 8 February, when a special high level event will be held at the United...
In late 2013, Haneen, now 14, fled Syria with her parents and 10 siblings. As her family made its way to the Turkish border, her father sustained injuries that left him paralyzed. Fearing he could no longer feed his 11 children or protect his daughters, he married Haneen, then...
Pages