Afghanistan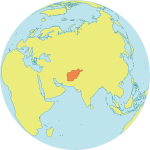 Maternal Mortality Ratio
638
Contraceptives prevalence rate
18
Population aged 10-24
35.3%
Youth secondary school enrollment
Related content
UNITED NATIONS, New York – When trained and supported by a functional health system, midwives could provide 87 per cent of the essential care needed for women and newborns, and could potentially reduce maternal and newborn deaths by two thirds. This was among the findings of the...
PRAGUE, CZECH REPUBLIC – A report released today by UNFPA, the United Nations Population Fund together with the International Confederation of Midwives (ICM), the World Health Organization (WHO) and partners reveals that major deficits in the midwifery workforce occur in 73...
YANGON, Myanmar – Twenty-three-year-old Ma Thae Ei Phyu is one of five "red angel" midwives to participate in a recent UNFPA-supported intensive training programme at a maternity ward on the outskirts of the Myanmar capital, Yangon. The programme prepared the red angels – named...
Pages