Germany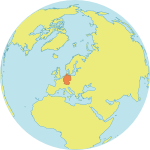 Maternal Mortality Ratio
7
Contraceptives prevalence rate
61
Population aged 10-24
14.9%
Youth secondary school enrollment
Related content
Najat knew the dangers of childbirth. But when her own needs clashed with her husband's traditional ideas, she suffered in ways she could not have imagined.
The Syrian crisis has left hundreds of thousands of adolescent girls vulnerable to child marriage and in need of adequate gender-based violence, sexual education and reproductive health services. UNFPA is helping to fill this void in Jordan, where 42,000 Syrian refugees are...
Since its opening in 2015, over 1,800 young women and men in Zaatari refugee camp have benefitted from trainings on reproductive health and gender-based violence at the Questscope-UNFPA Youth Centre. This is the story of 16-year-old Yanal, who became an advocate against...
Pages