Germany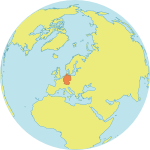 Maternal Mortality Ratio
7
Contraceptives prevalence rate
61
Population aged 10-24
14.9%
Youth secondary school enrollment
Related content
STOCKHOLM, 23 April 2014—More than 260 parliamentarians from 134 countries started a meeting here today to renew their commitment to the 1994 Cairo International Conference on Population and Development (ICPD).
UNITED NATIONS, New York – The growing number of young people in Africa could offer enormous potential gains to the continent, but only if their needs are met and their rights are fulfilled. This was the central message of leaders and public health experts at an 11 April meeting...
UNITED NATIONS, New York – Youth participants took centre stage at a side event of the UN Commission on Population and Development where they joined international leaders and experts to discuss how young people can be actively engaged to fulfil the Cairo agenda, the visionary...
Pages