UNITED NATIONS, New York – The United Nations Population Fund (UNFPA) today appointed German television producer and moderator, Alfred Biolek, its Goodwill Ambassador and Face to Face Campaign Spokesperson for Germany.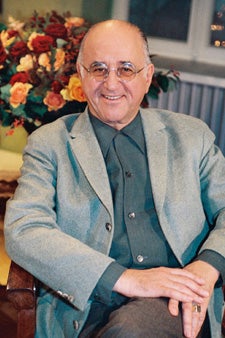 Since joining Germany's television industry in 1963, Mr. Biolek has risen to become one of its most prominent personalities. Since 1994, he has moderated and produced weekly television general interest programmes, "alfredissimo - Kochen mit Bio", and "Boulevard bio", the latter of which has been the most popular discussion programme in Germany for about 10 years.
"When I was asked if I wanted to become a UNFPA Goodwill Ambassador, I immediately accepted," said Mr. Biolek. "All possible measures have to be taken immediately when such acute global problems as the AIDS pandemic are concerned."
As Goodwill Ambassador, Mr. Biolek will fight for the rights of young people to adequate reproductive health care, as well as to the information and services they need to avoid HIV/AIDS and unwanted pregnancies. He will work with the UNFPA's Face to Face campaign partner, the German Foundation for World Population, widely known by its abbreviation, DSW (Deutsche Stiftung Weltbevoelkerung). He intends to mobilize politicians, the media and other decision makers, and generate funds for development projects.
Mr. Biolek's first function as UNFPA Goodwill Ambassador, in January, will be to discuss those issues and urge international assistance in Germany's biggest television programme, "Wetten dass?" which has an average audience of some 10 millions viewers. He plans to travel to developing countries to see the problems there and talk to leaders in Germany and the developing world on the need to act.
Face to Face is an international campaign to publicize the plight of millions of women and young people denied basic human rights taken for granted in developed countries, especially access to reproductive health care and family planning services. Its goal is to increase global awareness of the importance of those rights and services.
-- -- --
The UNFPA is the world's largest multilateral source of assistance for population programmes, channelling about one quarter of assistance from donor nations to developing countries. It has provided some $4.9 billion in funds to virtually all those countries, since it became operational in 1969.
Contact Information:
William A. Ryan
Tel.: +66 2 288 2446
Email: ryanw@unfpa.org