Japan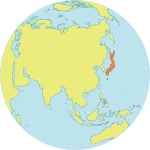 Maternal Mortality Ratio
5
Contraceptives prevalence rate
44
Population aged 10-24
14%
Youth secondary school enrollment
Related content
UNFPA delivered critical supplies to a remote settlement in Rukban, where residents have been stranded in the desert for years.
Prepositioning reproductive health supplies in areas vulnerable to natural disasters speeds up emergency assistance and saves lives; it also builds resilience in regular supply chains.
"They told me that I needed to protect myself… but no one told me how to do that," Maria* told UNFPA.
Pages