Nepal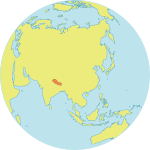 Maternal Mortality Ratio
186
Contraceptives prevalence rate
43
Population aged 10-24
32.1%
Youth secondary school enrollment
Related content
Regional Highlights The West and Central Africa region is not experiencing a second wave of COVID-19 as seen on other continents. The WCA region has recorded a steady decrease of cases over the last two weeks. The total number of COVID-19 cases has reached over 247,429 in the...
"Standing in the dark was a person asking for my help – a baby was being born," Shirin said. It was the start of the greatest challenge she had ever faced as a midwife.
Massive flooding in Sudan – the worst in 30 years – has created an ongoing humanitarian crisis, on top of the country's existing COVID-19 health crisis.
Pages