Nepal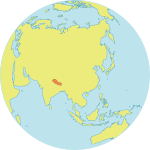 Maternal Mortality Ratio
186
Contraceptives prevalence rate
43
Population aged 10-24
32.1%
Youth secondary school enrollment
Related content
Mahgul* vividly remembers the day she was engaged to be married. "I was 7," she said.
With limited funding coming in, UNFPA has been able to resume operations in some key health facilities across the country. But much more support is needed.
Situation Overview
As of September 30, 2020, the country reported 313 cases of COVID-19 with 305 patients treated and recovered, and with 8 patients receiving medical care at the National Center for Communicable Diseases. There were 4,231 people in quarantine by the end of...
Pages