Afghanistan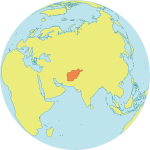 Maternal Mortality Ratio
638
Contraceptives prevalence rate
18
Population aged 10-24
35.3%
Youth secondary school enrollment
Related content
"I felt embarrassed to be a girl and felt like it was a punishment," recalled 13-year-old Faith, describing her first period. The Menstrual Health Management Symposium is taking aim at period shame.
Safe Space provides a venue to explore sensitive topics.
A midwife has become the only female Member of Parliament in the Comoros. She brings the fight for gender equality with her.
Pages