Afghanistan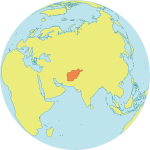 Maternal Mortality Ratio
396
Contraceptives prevalence rate
27
Population aged 10-24
35%
Youth secondary school enrollment
Related content
In her home district in far-western Nepal, 19-year-old Sangita BK needs no introduction. She is well-known as an activist against child marriage. In the last three years, she has – on her own – stopped at least a dozen child marriages.
JAYAPURA, Indonesia – "My daughter used to hide all sorts of things from me," said Martina, 41, at a support group session in Jayapura, in the far-eastern Indonesian province of West Papua.
At only 19, Michelle Zeledón, from the north of Nicaragua, has been through a lot. She watched her father beat her mother, and endured years of his verbal abuse. "One time, during the Holy Week, my dad tried to kill my mother," she told UNFPA.
Pages