Afghanistan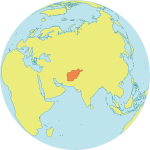 Maternal Mortality Ratio
396
Contraceptives prevalence rate
27
Population aged 10-24
35%
Youth secondary school enrollment
Related content
United Nations, New York – UNFPA, the United Nations Population Fund,  and UN Volunteers (UNV) have signed a Memorandum of Understanding reaffirming their long-standing development partnership.
On February 10th, leaders from Pathfinder International and UNFPA signed a memorandum renewing the organizations' collaborative commitment to advance family planning and gender equality worldwide.
<p>In his statement to the Executive Board, Dr. Osotimehin laid out the priorities for UNFPA in the year ahead.
Pages