Afghanistan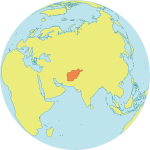 Maternal Mortality Ratio
638
Contraceptives prevalence rate
18
Population aged 10-24
35.3%
Youth secondary school enrollment
Related content
This paper provides a brief review of existing evidence and emerging issues in the area of contraception for adolescents and youth, with a particular focus on integration into sexual and reproductive health and rights services.
The youth centres are friendly spaces for youth amid protracted conflict in Kachin State.
"Must a girl be of lesser value than a boy?" Wen Xiujuan asked, after having two daughters.
Pages