Turkey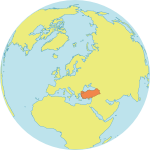 Maternal Mortality Ratio
17
Contraceptives prevalence rate
48
Population aged 10-24
24.1%
Youth secondary school enrollment
Related content
The Third United Nations Conference on Least Developed Countries held in Brussels, from 14 to 20 May 2001, concluded by adopting by consensus a political declaration in which 193 participating governments committed themselves to eradicating poverty in the world's poorest...
Mr President,
Since this is my first address to a United Nations conference at the global level, perhaps I may be allowed to introduce myself. I am Thoraya Ahmed Obaid of Saudi Arabia, and the Secretary-General appointed me as Executive Director of the United Nations...
The United Nations Population Fund joins the World Health Organization (WHO) in celebrating World Health Day, which falls on 7 April, and is devoted this year to Mental Health. The Day's slogan, "Stop exclusion, Dare to care", is a call to action to generate long-term...
Pages