Australia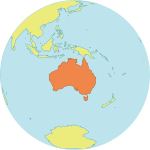 Maternal Mortality Ratio
6
Contraceptives prevalence rate
58
Population aged 10-24
18.5%
Youth secondary school enrollment
Related content
UNITED NATIONS, New York – On 12 June, UNFPA celebrated the winners of the 2014 United Nations Population Award: Father Aldo Marchesini, a doctor and Catholic priest who treats obstetric fistula sufferers in Mozambique, and the maternal and child health organization Jhpiego.
UNITED NATIONS, New York – In conflicts the world over, women's bodies become battlegrounds and rape becomes a weapon of war.
CAIRO, Egypt / ADDIS ABABA, Ethiopia – One in three girls in low- and middle-income countries continue to be married by age 18, and an estimated one in nine girls is married by age 15.
Pages