AMMAN, Jordan — The Al-Ruwaished Hospital, in eastern Jordan, yesterday received a fresh shipment of emergency medical equipment, supplies and medications that would further prepare it to treat people displaced as a result of the Iraqi conflict. The new supplies, delivered by UNFPA, the United Nations Population Fund, are particularly intended to boost the hospital's ability to assist pregnant women and to save the lives of mothers and their babies.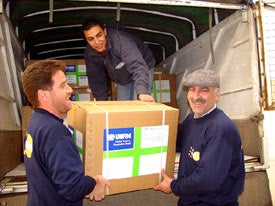 The government-run hospital at Al-Ruwaished—the closest to the Jordan-Iraq border—has been designated as the referral facility for persons in need of immediate medical attention. The new UNFPA supplies are intended to help the hospital undertake this role, if needed. To date, there has been no influx of Iraqi refugees into Jordan.
The reproductive health emergency supplies are enough to equip two delivery rooms. They include safe delivery supplies, equipment for emergency obstetric care including caesarian section, supplies needed for blood transfusion, and other reproductive health supplies and medications.
"This is just a part of our support to the Jordanian Government's preparedness for any potential refugee situation," said Seifeldin Abarro, UNFPA Representative in Jordan, during yesterday's delivery. "We are in constant contact with the Ministry of Health, and we are fully ready to further support it in addressing the reproductive health needs of displaced persons."
The supplies delivered to Al-Ruwaished were selected based on an earlier UNFPA assessment of the hospital's basic needs, and in full collaboration with the Jordanian Ministry of Health. UNFPA has also trained Jordanian medical personnel on how to use the emergency supplies and to address reproductive health needs in refugee situations. More supplies will be delivered soon to other nearby hospitals.
Contact Information:
William A. Ryan
Tel.: +66 2 288 2446
Email: ryanw@unfpa.org
Omar Gharzeddine
Amman
Tel.: +1 (212) 297-5028
Email: gharzeddine@unfpa.org